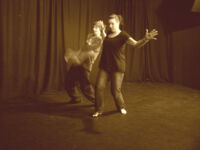 Pantomime and Figuration
Starting with ice-breaker activities and trust games you will find out how much fun theater can be. This course will introduce the students to the basics of posture, space awareness, body talk and silent communication. Enjoy learning some of the key aspects of theater while communicating with body expressions.
The body is the instrument.
| | |
| --- | --- |
| Time period: | 2 x 4 hours |
| Theater experience: | none |
| Age groups: | Adults(+16 y.)/children(10-12 y. + 13-15 y.) |
| Participants: | max. 10 |
| Clothing: | comfortable, barefoot or gym shoes |
| | |
| Times: | as required |
| Fee: | € 80,00 |
| | |
| | |
| | |
| back | |

Links Imprint Datenschutz
© 2023 Gabi Gerdau