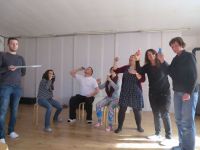 The theater workshop in the Lake Constance Area
Dear theater friends,
The next workshop in the new rooms at Askaniaweg 6 in Überlingen will take place in November.
Body & Space Workshop: Sa. 14th/Su. 15th Nov. 2020, from 10-14 h.
Cost: € 80,00
Register: call 07551-8439380 or send a mail under contact.
The workshop will take place in accordance with the Corona Ordinance, i.e. distancing, masks, limited number of people and personal data gathering.
It would be great if a small group could get together.
Best Regards
Gabi Gerdau (certified drama teacher)

Links Imprint Datenschutz
© 2021 Gabi Gerdau