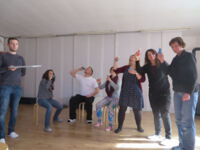 The theater workshop in the Lake Constance Area
Dear theater friends,
Corona has hit Theaterwerk Bodensee hard. Unfortunately, due to cost reasons I have to give up the rented workshop in Überlingen . Therefore, as soon as it is possible, I can only carry out project assignments, workshops, etc. at your location. The courses will remain, whereas each course can be adapted to your individual requests.
As soon as the contact restrictions are relaxed, I look forward to your inquiries!
Best Regards
Gabi Gerdau (certified drama teacher)

Links Imprint Datenschutz
© 2023 Gabi Gerdau